"'Here,' he says to Dan,'take hold'..."
photo-lithograph
PRINTS - LITHOGRAPHS
Burns, Milton J.
before 1933
paper
sheet: 9-1/2 x 6 in.; image: 7-1/2 x 5-3/8 in.
Photo-lithograph, half tone, engraver's proof of illustration by Milton J. Burns; sailing vessel awash in heavy seas, handwritten below "No. 4 - 'HERE,' HE SAYS TO DAN, 'TAKE HOLD'... 16752-18" (rest of caption is not visible); signed in the plate lower left "Burns."; red out-lined sticker attached lower middle; handwritten "16752-18/ Apr 30"; handwritten above sticker "4 1/2"; handwritten lower left "18553". See also 2001.12.26 and 2001.12.29, similarity of handwritten numbers suggests may be part of a series.
2001.12.44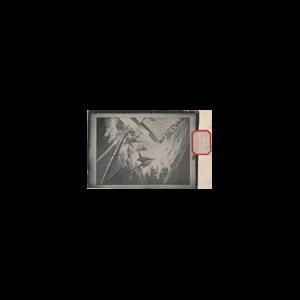 Related Objects
Related Subjects