Florence Van Wyck Doubleday
photograph
PHOTOGRAPHS
Marceau, Theodore C.
USA, NY, Oyster Bay
paper
overall: 11-1/2 x 7-3/4 in.; image: 9-1/8 x 6-5/8 in.
Photograph printed on gray board; photograph of Florence Van Wyck Doubleday and Horace (St. Bernard dog) standing in front of pool and fountain at "Effendi Hill"; printed on lower right "Marceau"; handwritten on back "Florence Van Wyck (Mrs. Frank Nelson Doubleday)/ Oyster Bay - Long Island/ 'Effendi Hill'".
2002.20.88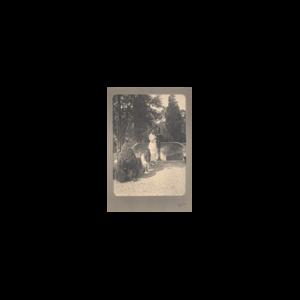 Related Subjects