"Two Natives - Nassau, Bahamas"
photograph
PHOTOGRAPHS
Sands' Studio
BAHAMAS, Nassau
paper
overall: 5-5/8 x 3-5/8 in.
Hand colored photograph (?) printed on postcard paper; photograph, probably hand colored of a man in a donkey cart, streets are pink (sand ?), pink flowers spilling out of walled garden on left dominate photograph; printed on bottom "TWO NATIVES - NASSAU, BAHAMAS"; printed on back top "Post Card"; on left "Published by SANDS' STUDIO"; on bottom right "No. 28" and "12/10000".
2002.20.179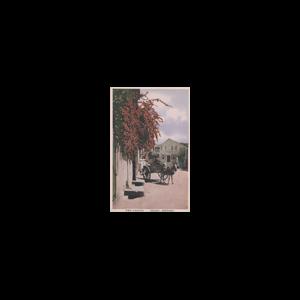 Related Subjects