"Immigrants just arrived, awaiting examinations, Ellis Island, New York Harbor"
stereograph
PHOTOGRAPHS
Underwood & Underwood
USA, NY, Ellis Island
1892-1954
paper
overall: 3-1/2 x 7 in.; image: 3-1/4 x 6-1/8 in.
Stereograph; albumen print mounted on gray board with rounded corners; view of immigrants at Ellis Island awaiting examination; printed on left "European Publisher/ Underwood & Underwood (London) Ltd."; printed on right "S 46", "Underwood & Underwood/ New York & Ottawa, Kas. Works, Arlington, N.J." and "SUN SCULPTURE/ TRADE MARK"; printed on bottom right "5288 - Immigrants just arrived, awaiting examination,/ Ellis Island, New York Harbor. Copyright Underwood & Underwood"; printed on back "5288. Geography.- We are on Ellis Island,/ southwest of New York City, in the upper bay, or har-/ bor proper. Here in the great government building are/ thousands of the foreigh-born, anxiously awaiting the/ examination which will determine whether they may/ enter the land of plenty- America./ People and Homes.- Aliens who come to this country/ in steerage are sent immediately to Ellis Island. Cabin/ passengers are examined on the ship and only those not/ 'clearly and beyond a doubt' entitled to land are sent/ to the island. As cabin passengers are much less likely/ to be ineligible, their examination can be done more/ rapidly and there are fewer held for special inquiry./ Upon reaching Ellis Island the immigrants first pass/ before the surgeons (on the ground floor of this build-/ ing) and then they come up here to the registry divi-/ sion where we stand. The law requires the owners of/ every vessel to furnish a 'manifest,' containing the/ name of each immigrant and much other information./ Each immigrant, or head of a family, is given a ticket/ which designates the manifest sheet in which his name/ appears. The immigrants are then placed in lines by/ 'groupers.' An examining inspector at the end of each/ line has the 'manifest' of this particular group. He/ questions the aliens and corrects any errors or omis-/ sions. Through the facts gained by observation and/ conversation he determines whether immigrants should/ land. If he believes this to be the case the applicants/ are landed, but if he entertains any doubt it is his duty/ to hold the immigrant for special inquiry before a board/ appointed for this purpose. These boards may decide/ to hold an alien temporarily, to deport him, or to allow/ him to enter the country./ Refer again to this view when considering History, Cities and/ City Life." and "Immigrants just arrived, Ellis Island, New York Har-/ bor." followed by same text in French, German, Spanish, Swedish and Russian.
2001.127.5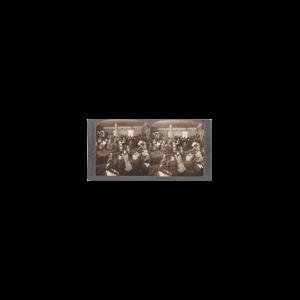 Related Subjects