"French steamer VILLE-DU-HAVRE"
stereograph
PHOTOGRAPHS
American Scenery
USA, NY, New York
paper
overall: 3-1/2 x 7 in.; image: 3-1/8 x 5-5/8 in.
Stereograph; albumen print mounted on yellow board with rounded corners; port view of three-masted French steamer VILLE-DU-HAVRE at dock, possibly in New York, covering, possibly canvas, supported by aft boom, small barge tied along side; printed on left "American Scenery."; printed on right "New York City"; printed on bottom center "French Steamer, 'Ville-du-Havre.'"
2001.127.8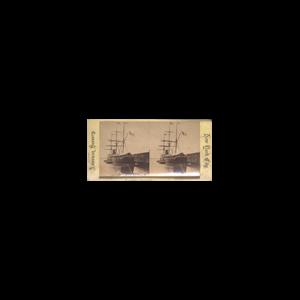 Related Subjects