White Heather brand codfish bits box
codfish box
MERCHANDISING TOOLS & EQUIPMENT
Gorton-Pew Fisheries Co.
USA, MA, Gloucester
wood
overall: 2-1/4 x 6 x 4-1/8 in.
Fish box; wooden codfish box with dovetailed corners and a sliding lid; printed in black on lid "ONEPOUND NET/ WHITE HEATHER/ BRAND/ ABSOLUTELY BONELESS/ CODFISH-BITS/ PACKED BY/ GORTON-PEW FISHERIES Co. Gloucester, Mass."; printed in black on left side "PREPARED WITH FOUR TENTHS OF/ 1% BORACIC ACID WHICH IS REM-/ OVED IN TWO OR THREE WASHINGS/ AS YOU FRESHEN THE FISH."
2001.127.26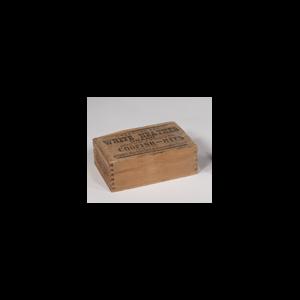 Related Subjects