"Addendum to NAUTILUS information pamphlet"
document
DOCUMENTS
after 1957-01-17
paper
overall: 10-1/2 x 8 in.
Document, "Addendum to NAUTILUS (built 1952-1954) information pamplet"; typed document updating U.S.S. NAUTILUS data; printed on front "ADDENDUM TO NAUTILUS INFORMATION PAMPLET/ As of 17 January 1957, marking the completion of two successful years/ of operation on the original nuclear charge, the following performance/ figures have been attained:/ Total hours underway --- 5154 hours 33 minutes/ Number of hours submerged --- 2926 hours 17 minutes/ Total miles underway --- 56,839.9/ Number of miles submerged --- 32,460./ Number of dives made --- 816". Probably an addendum to 2003.92.12.
2003.92.13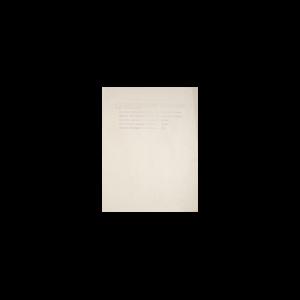 Related Media
Related Objects
Related Subjects