Postcard depicting "Flagship s.s. ROTTERDAM"
postcard
EPHEMERA
Euro Color Cards
Netherlands, Rotterdam
paper
overall: 4 x 5-7/8 in.
Steamship memorabilia, picture postcard of ROTTERDAM (built 1956-1958); photograph depicting the flagship of the Holland-America Line, the steamship ROTTERDAM, a small sailboat is in the foreground, as well as a water skier and several small powerboats; printed on front "Holland America Cruises" and "Flagship s.s. Rotterdam"; printed on back "Postcard", "e.c.c. 2004" and "Produced by Euro Color Cards, Rotterdam/ Printed in the Netherlands". Enclosed in Mementos folder 2002.101.65.
2002.101.60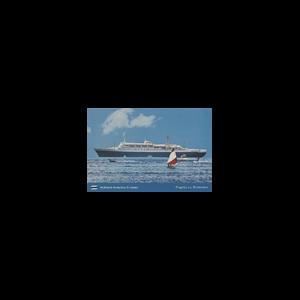 Related Objects
Related Subjects