Metropolitan Steamship Co. advertising card
advertising card
EPHEMERA
Metropolitan Steamship Co.
USA, NY, New York; USA, MA, Boston
paper
overall: 6 1/8 x 3 5/8 in.
Advertising card; advertising card for Metropolitan Steamship Co. specifying sailing days and ships and touting their freight service to and from the New England area, shipping agents H. F. Dimock in New York and H. M. Whitney in Boston; printed on front "METROPOLITAN STEAMSHIP CO./ FROM PIER 11, NORTH RIVER,/ NEW YORK./ The only direct all water line between New York/ and Boston without breaking bulk.", followed by sailing days, vessels and advertising for shipping services; depicted on back, vignette of the Mayflower in 1620, sailing on a sunlit path to shore, surrounded by waves, cliffs and forests; printed on back "Mayflower" and "1620".
2002.15.2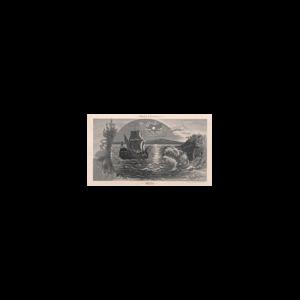 Related Media
Related Subjects