Greeting card, "Ahoy Sailor"
greeting card
EPHEMERA
paper; line
overall: 5-1/2 x 4-1/2 in. (folded)
Greeting card; "Ahoy Sailor" greeting card; red border with blue and white rope frame and lettering, cut-out in center shows sailor seated and tying a knot, piece of blue and white line is glued in; printed on front "AHOY SAILOR!/ Greetings to my SWEETHEART"; printed inside "Greetings to my Sweetheart/ To show he's KNOT forgot/ And to tell him/ Here and now/ He's the BEST/ his country's/ got!"; printed on back "PR 5205/ MADE IN U. S. A." Thought to be of World War II vintage. Envelope is in correspondence file.
2002.58.16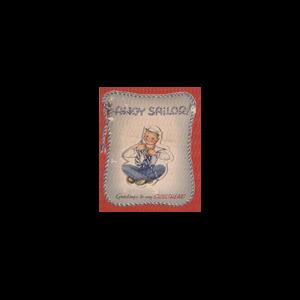 Related Events
Related Subjects