Mystic Island, taken from Mason's Island, Connecticut 1896
photograph
PHOTOGRAPHS
Tingley, George E.
USA, CT, Mystic, Ram Island; USA, CT, Mystic, Mason's Island
1896
paper
overall: 10-7/8 x 13-3/4 in.; image: 5-1/2 x 8-1/2 in.
Photograph, by George Tingley; view of Mystic Island (later known as Ram Island) photographed from Mason's Island, Connecticut, 1896; signed below image on right "Geo. E. Tingley/ Mystic Conn./ 1896"; printed on label on back "FROM/ Fred'k Loeserv Co./ PICTURE DEPARTMENT."; handwritten on white label with red border on back "Your [illegible]/ picture/ of Mystic Is".
2007.56.1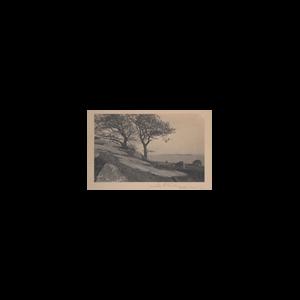 Related Objects
Related Subjects