Trade card for Naumkeag, Salem, Massachusetts
trade card
EPHEMERA
John A. Lowell & Co.
USA, MA, Salem; USA, MA, Boston
before 1880
paper
overall: 6 x 3-3/4 in.
Trade card; Naumkeag, Salem, Massachusetts; black and white lithograph of a square-rigged vessel underway, port stern view, schooner to right background, seas relatively calm, appears to be moonlit night, image is bordered as if framed, corn stalk appears in lower left; printed on back "1880./ SPRING OPENING./ MEN'S AND YOUTHS'/ Fine Clothing./ 'NAUMKEAG,'/ No. 179 ESSEX STREET,/ SALEM."; printed on bottom "John A. Lowell & Co., Boston." Note: Naumkeag was the original name of Salem, MA, in this instance it appears to be a clothing store.
2005.7.18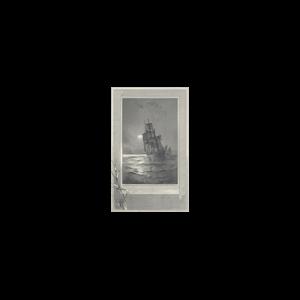 Related Subjects