Trade card for J. A. Magee & Co.
trade card
EPHEMERA
Forbes Co.
USA, MA, Boston; USA, NY, New York
after 1870; before 1900
paper
overall: 4-1/4 x 6-1/4 in.
Trade card; J. A. Magee & Co.; chromolithograph of two barefoot children standing on rocky shore, girl is holding large glass bottle with label "MAGEE'S/ [E]MULSION"; boy is hauling in fishing net with large fish, probably cod fish, small sailboat beached on shore next to children with sail up; printed on sail "Compliments/ of J. A. MAGEE & CO./ MANUFACTURERS OF/ C. K. MAGEE'S/ EMULSION OF/ PURE COD LIVER OIL/ IN Combination With/ EXTRACT OF MALT/ AND Hypophosphites/ Of Lime/ AND Soda"; printed on bottom "FORBES CO. BOSTON & N.Y."
2005.7.19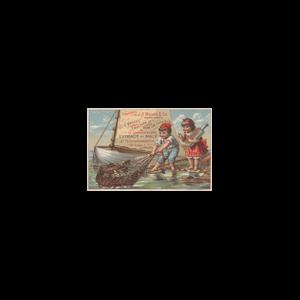 Related Subjects