Trade card for McLaughlin's XXXX Coffee, Chicago, Illinois
trade card
EPHEMERA
Cosack & Co.
USA, IL, Chicago; USA, NY, Buffalo
before 1893
paper
overall: 6-3/4 x 5-1/4 in.
Trade card; McLaughlin's XXXX Coffee, Chicago, Illinois; chromolithograph depiction of young girl helping her father hoist the sail on his fishing boat, she is wearing a red skirt and red shawl, he is wearing a sou'wester hat, blue sweater and yellow pants, probably foul weather pants, both have their hands on the halyard, sail is halfway raised, pile of fishing nets on thwart in front; printed on top left "HELPING PAPA."; printed on top right "McLAUGHLIN'S/ XXXX COFFEE"; printed on bottom right "COSACK & CO. BUFFALO & CHICAGO."; printed on back "XXXX/ The Best Coffee on Earth! THE IMMENSE SALES SHOW THE PEOPLE KNOW IT IS THE BEST./ ... / W. F. McLAUGHLIN & CO.,/ A Picture Card in every Package. CHICAGO./ McLAUGHLIN'S XXXX COFFEE./ 18 IN THIS SET."
2005.7.20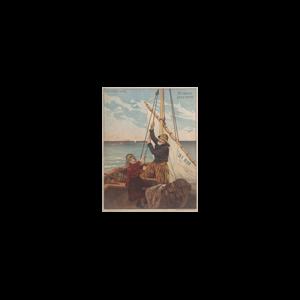 Related Events
Related Subjects