State of North Carolina Treasury bank note, 50¢, September 1, 1862
paper currency
CURRENCY - PAPER MONEY
J. T. Paterson & Co.
USA, NC, Raleigh; USA, GA, Augusta
1862-09-01
paper
overall: 2-3/4 x 5-1/4 in.
Currency; State of North Carolina Treasury bank note, 50¢, September 1, 1862; engraved by J. T. Paterson & Co.; obverse in center marine scene vignette of square-rigged vessel under sail, at right floral motif; handwritten on front [very faded] "?1376" and signature illegible; printed on front "RECEIVABLE IN PAYMENT OF ALL PUBLIC DUES./ THE STATE OF NORTH CAROLINA/ WILL PAY TO/ BEARER AT/ the Treasury on or before January 1st 1866/ FIFTY CENTS/ Raleigh/ Sept. 1st 1862", "J.T. PATERSON & CO. Augusta, Ga. For Pub. Treas.", "BY AUTHORITY/ of/ LAW", "FIFTY CENTS" and "50".
2005.7.34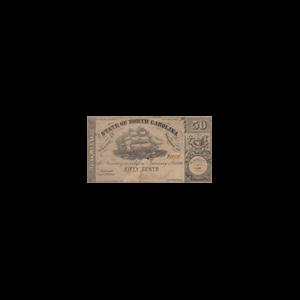 Related Events
Related Subjects