USCGC COURIER rubber stamp, after 1964
rubber stamp
OFFICE EQUIPMENT & BANKING
Commercial Printer, Inc.
after 1964
wood
overall: 3-1/4 x 2-3/4 in.
Rubber stamp; USCGC COURIER (built as COASTAL MESSENGER, 1945) rubber stamp belonging to USCG sailor Peter R. Kolasa, after 1964; wooden square stained red with a black handle in center, piece of plastic attached to one edge for holding identification paper, yellow paper under plastic with "CGC COURI", attached to bottom rubber stamper in the design of the USCGC COURIER seal, two crossed anchors under a ring, inside ring picture of United States East Coast with profile of COURIER superimposed, in ring "USCGC COURIER/ WTR-410"; in white on handle inside a circle "COMMERCIAL PRINTER/ NEWPORT NEWS" around a "CP" logo; stamped on one edge in black "J.D. O'MALLEY, CDR, USCG/ Commanding Officer".
2005.19.80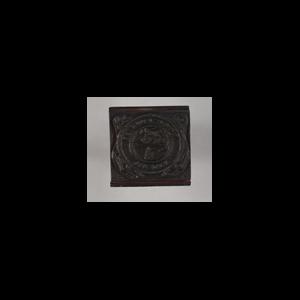 Related Subjects