VIM,#US15 with #KA1'S mainsail, 1962
color slide (35mm only)
PHOTOGRAPHS - 35 MM SLIDES
Rosenfeld and Sons
July, 1962
safety film, Kodachrome; cardboard mount
overall: 1 x 1 1/2 in.
35mm color slide photographed by Rosenfeld and Sons in July of 1962 off Newport, Rhode Island. Image of VIM, #US15, with her wood deck and white hull, testing the mainsail of GRETEL, #KA1, close-hauled on a starboard tack with view from leeward. VIM, US #15, was a 70' 12 meter sloop, designed by Sparkman & Stephens and built by Henry B. Nevins, Inc. of City Island, New York in 1939. Mount info. stamped: "MADE IN U.S.A. / (black) 30 / JUL 62N". Manufacturer's info.: "KODACHROME II / TRANSPARENCY / PROCESSED BY Kodak". CREDIT LINE: Mystic Seaport, Rosenfeld Collection. DUP 1
BOX.1984.187.1.15.26
Mystic Seaport, Rosenfeld Collection.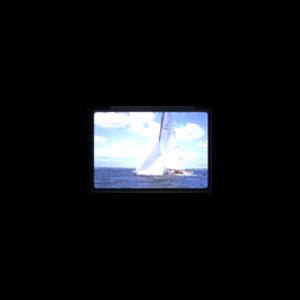 Related Subjects