BALAMA, underway, starboard bow view, 1978
color slide (35mm only)
PHOTOGRAPHS - 35 MM SLIDES
Rosenfeld, Stanley Z.
March, 1973
safety film, Kodachrome; cardboard mount
overall: 1 1/2 x 1 in.
35mm vertical color slide photographed by Rosenfeld and Sons in March, 1973. Image of BELAMA, a Merritt 43 sport fisherman. View of BELAMA underway, starboard bow view, showing a small bow wave and a good wake. BELAMA was a 43' sport fisherman designed and built by Merritt Boat & Engine Works. BELAMA (USCG #580128, Hull #26) was completed in 1977 for owner Newt Belcher. She was later renamed as MISTRESS. Twelve 43-foot (13 m) Merritts were built from 1968-1982. Mount info. stamped; "(red) 27 / MAR 73N7." Manufacturer's info. on verso; "Kodachrome SLIDE / PROCESSED BY KODAK". CREDIT LINE: Mystic Seaport, Rosenfeld Collection, Stanley Z. Rosenfeld photographer.
BOX.1984.187.126.1.9
Mystic Seaport, Rosenfeld Collection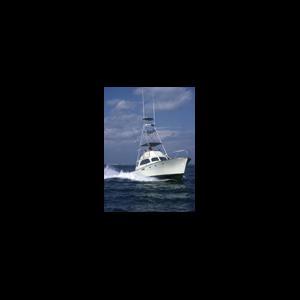 Related Subjects