Postcard of the whaling bark GREYHOUND
postcards
POSTCARDS
A. C. Bosselman & Co.
USA, MA, New Bedford; USA, NY, New York; Germany
before 1906
paper
overall: 3-1/2 x 5-1/2 in.
Postcard; Postcard of the whaling bark GREYHOUND; From the Eduard Stackpole Collection; used postcard with the front depicting a hand-colored photographic image of the whaling bark GREYHOUND, being pulled by a tugboat; printed in red across top of postcard front "WHALING BARK GREYHOUND OUTWARD BOUND, NEW BEDFORD, MASS."; card was printed so that image takes up most of front, but leaves a small (approx. 3/4 inch wide) vertical stripe of white down the right side; handwritten in this white margin on an angle in the bottom right front corner is "1906"; the postmark on the front of the card is smudged and illegible; printed across the top of the back of the card in green is "Post Card/ THIS SIDE IS FOR THE ADDRESS ONLY"; printed along left side of back of postcard is "Made in Germany. A.C.Bosselman & Co., New York."; handwritten across the back of postcard on address lines reads "Miss Alla Lynne Perkins/ Mystic/ Conn"; two postmarks on theback of the card, one in bottom left corner is slightly faded, but reads "MYSTIC, CONN,/ AUG/ 27/ 730 AM/ 1906/ ?EC'D."; postmark in upper right corner reads "EDGARTOWN/ AUG/ 26/ 2PM/ 1906/ MASS"; in upper right corner on back of postcard is a green postage stamp with the portrait of Benjamin Franklin on it; printed on postage stamp is "SERIES 1902/ UNITED STATES OF/ AMERICA/ 1706 FRANKLIN 1790/ POSTAGE/ONCE CENT", with small "1"s on either side of the portrait.
2009.22.6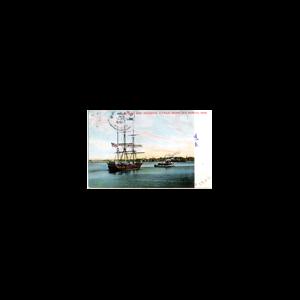 Related Subjects