"Cutting in a Sperm Whale"
photograph
PHOTOGRAPHS
H.S. Hutchinson & Co.
1903
paper
overall: 9-7/8 x 7-1/2 in.
Photograph; Whaling on the CHARLES W. MORGAN; From the Eduard Stackpole Collection; photographic print of the the CHARLES W. MORGAN actively being used as a whaling bark; image shows two men working on hoisting the whale up out of the water; printed lightly in white on front of photograph in bottom left corner is "Copyright 1903/ H.S. Hutchinson + Co.", and what looks like a "3" in the opposite bottom corner; back of photograph has remenants of black paper adhered to it, suggesting that the photograph was originally part of an album.
2009.22.58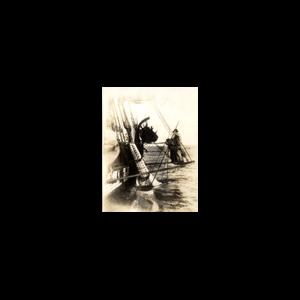 Related Objects
Related Subjects