Ship GLENESSLIN burnt and sunk at Watson's Stores, Brooklyn, NY, September. 23, 1894.
gelatin print
PHOTOGRAPHS
Merritt-Chapman & Scott Corporation
USA, NY, Brooklyn
1894-09-23
paper
4-1/2 x 6-1/2 in.
Gelatin print in album 2008.28.3 of Merritt & Chapman Derrick & Wrecking Co.; printed in negative lower right "139"; handwritten on album page below picture "Ship 'GLENESSLIN'/ Burnt & sunk at Watson's Stores./ Sept. 23rd 1894." See "Brooklyn Daily Eagle Almanac 1895" entry for Sept. 23, 1894, "Iron ship 'Glenesslin,' kerosene laden, on fire at Watson's Stores, is sunk to put out flames." Derrick barges alongside; bow view of ship listing to starboard, figurehead visible on bow.
2008.28.3.19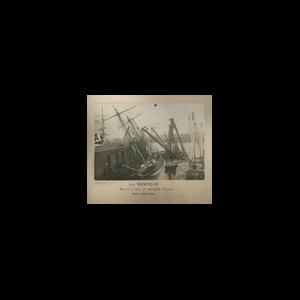 Related Objects
Related Subjects