Label for can of Sledge Brand Coho Salmon
seafood can label
MERCHANDISING TOOLS & EQUIPMENT
Schmidt Litho. Co.; Alaska Packers Assoc.
USA, CA, San Francisco
paper
4-1/2 x 10 in.
Sledge brand salmon label; red label with illustration of a salmon on the left, and an illustration of dogs pulling a sled of salmon through the snow, with a ship in the background; left side of label reads "COHO/ SALMON/ LIGHTLY/ SALTED/ SLEDGE BRAND/ PACKED BY/ ALASKA PACKERS ASSOCIATION, San Francisco."; illustrated by Schmidt Litho. Co.
UNIDENTIFIED ship
1999.72.1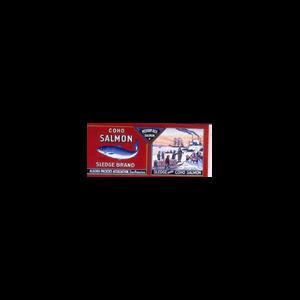 Related Objects
Related Subjects