"EASTLAND DISASTER"
photographic postcard
POSTCARDS
2014 Lang Collection
USA, IL, Chicago
circa 1915
Photographic postcard; view of steamer EASTLAND capsized with passengers standing on hull of ship being rescued by multiple vessels, including tugboats INDIANA and WAUKEGAN. Printed on front at bottom: "EASTLAND DISASTER 8A.M. JULY 24 1915. Postmarked July 30, 1915; see duplicate postcard 2014.49.10361; see related postcards 2014.49.173-180, 2459, 9396.
2014.49.176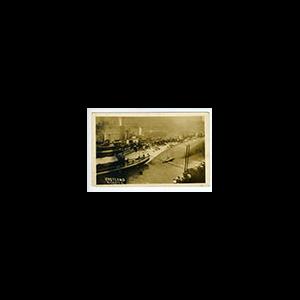 Related Media
Related Objects
Related Subjects