Tugboats towing ocean liner through Panama Canal
real photo postcard, color, divided back, yellow border
POSTCARDS
2014 Lang Collection
Curteich-Chicago "C. T. Art-Colortone"; Maduro, I. L. Jr.
Panama, Panamá, Canal de
paper
3-1/2 x 5-1/2 in.
Real photo postcard, color, divided back, yellow border; handwritten on back "84"; printed on back "GENUINE CURTEICH-CHICAGO 'C.T. ART-COLORTONE' POST CARD . . .", and "I.L. MADURO, JR., S.A., AVENIDA CENTRAL NO. 100 / APARTADO 281,PANAMA"; printed on front upper right "The Panama Canal", and lower left "El Canal de Panama", and lower right "9B-H1437"; two tugboats towing ocean liner through Panama Canal.
2014.49.2453
Gift of Monika and Steven Lang, 2014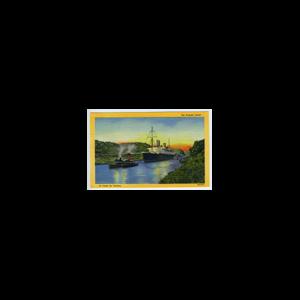 Related Media
Related Subjects