Great Northern Paper Company tugboat in Chesuncook Lake, Maine, circa 1907-1915
real photo postcard, divided back
POSTCARDS
2014 Lang Collection
Eastern Illustrating & Publishing Co.
USA, ME, Chesuncook Lake
1907-1915
paper
226923-3/8 x 5-3/8 in.
Real photo postcard, divided back; printed on back "EASTERN ILLUSTRATING & PUBLISHING CO., BELFAST, MAINE / ALL REPRODUCTION RIGHTS RESERVED", and on front at bottom "GREAT NORTHERN PAPER CO.'S TUG - WEST BRANCH ON / CHESUNCOOK LAKE, ME. 2588"; Great Northern Paper Company tugboat in Chesuncook Lake, Maine, circa 1907-1915.
2014.49.9573
Gift of Monika and Steven Lang, 2014.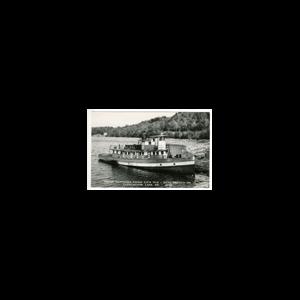 Related Media
Related Subjects