Tugboat R.J. KILLICK? in harbor, Eastport, Maine, before 1906
handmade postcard
POSTCARDS
2014 Lang Collection
USA, ME, Eastport
before 1906
paper
card 3-1/2 x 5-3/8 in.; photograph 1-5/8 x 3-1/4 in.
Handmade postcard, colored photograph mounted on paper; handwritten on back "R.J. KILLICK"; postmarked Orono, ME, June 10, 1906, and Rockland, ME, June 11, 1906, addressed to Miss E.C. Bicknell, Rockland, ME; handwritten on front "; At Eastport.'"; tugboat R.J. KILLICK? in harbor, Eastport, Maine, before 1906.
2014.49.9581
Gift of Monika and Steven Lang, 2014.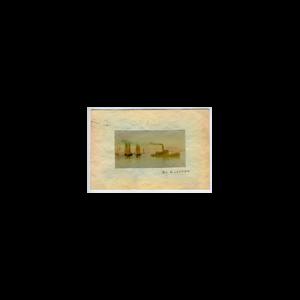 Related Media
Related Subjects