Moran tugboat and fireboat escorting Swiss motor-ship GENEVE arriving in New York on maiden voyage, 1960
real photo postcard, divided back
POSTCARDS
Gebr. Spanjersberg N.V.
USA, NY, New York
1960
paper
3-1/2 x 5-1/2 in.
Real photo postcard, divided back; handwritten on back "12-85"; printed on back "F.27 / NEW YORK HARBOR / Welcomed by a Moran tug and a New York City fireboat the new Swiss motor-ship, Geneve on her maiden voyage in world's busiest harbor.", and "'Photo from Moran'", and "661", and "GEBR. SPANJERSBERG N.V. ROTTERDAM"; Echte foto stamp box on back; Moran tugboat and fireboat escorting Swiss motor-ship GENEVE arriving in New York on maiden voyage, 1960.
2014.49.9940
Gift of Monika and Steven Lang, 2014.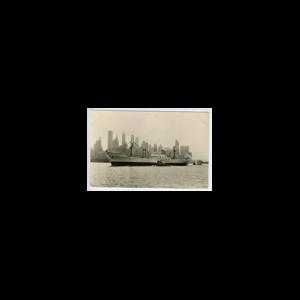 Related Media
Related Subjects