Men and women on deck of tugboat CINCINNATI, Lorain, OH, possibly May 19, 1911
real photo postcard, divided back
POSTCARDS
Leiter Post Card Co.
USA, OH, Lorain
after 1910; 1911-05-19
paper
3-1/4 x 5-1/8 in.
Real photo postcard, divided back; handwritten on back "EB 39705", and "FISH TUG", and vessel specifications; printed on back "The Leiter Post Card Co. Lorain, O."; handwritten on front at bottom "4766 Launching Party of the Tugs 5/19-11 Lorain O"; men and women on deck of tugboat CINCINNATI, Lorain, OH, possibly May 19, 1911.
2014.49.10404
Gift of Monika and Steven Lang, 2014.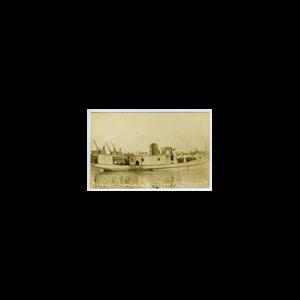 Related Media
Related Subjects