Four fish tugs at Lorain, OH, circa 1906
real photo postcard, divided back
POSTCARDS
Leiter Post Card Co.
USA, OH, Lorain; USA, Great Lakes, Lake Erie; USA, OH, Black River
circa 1906
paper
3-3/8 x 5-3/8 in.
Real photo postcard; handwritten on back "EB 62205", and "BLACK RIVER LORAIN OH CA' 1906"; printed on back "The Leiter Post Card Co. Lorain, O."; handwritten on front at bottom "1906? [1706?] After stormy voyage", and "Lorain O"; 4 fish tugs at Lorain, OH, circa 1906; see color duplicate postcard 2014.49.10407.
2014.49.10406
Gift of Monika and Steven Lang, 2014.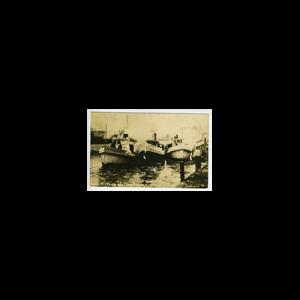 Related Media
Related Objects
Related Subjects