Four fish tugs at Lorain, OH, circa 1906
real photo postcard, color, divided back
POSTCARDS
F.M. Kirby & Co.
USA, OH, Lorain; USA, Great Lakes, Lake Erie; USA, OH, Black River
circa 1906
paper
3-3/8 x 5-3/8 in.
Real photo color postcard, divided back; handwritten on back "2-83", and "BLACK RIVER LORAIN, OH"; printed on back "PUBLISHED BY F.M. KIRBY & CO. MADE IN U.S.A.", and "A-6930"; stamp box (pre-1907) on back "PLACE / STAMP HERE / DOMESTIC / ONE CENT / FOREIGN / TWO CENTS"; printed on front at bottom "Fish Tugs returning from stormy voyage, Lorain, Ohio"; 4 fish tugs at Lorain, OH, circa 1906; see black/white duplicate postcard 2014.49.10467.
2014.49.10407
Gift of Monika and Steven Lang, 2014.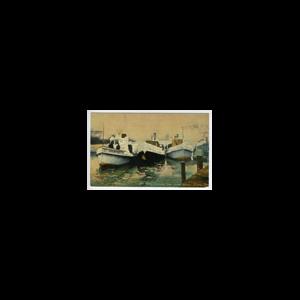 Related Media
Related Objects