FABIA, starboard bow view at rest, by or after 1920
silver print
PHOTOGRAPHS
Electric Boat Co.
USA, CT, Groton
After May 01, 1920
emulsion on printing paper
overall: 4 3/4 x 6 3/4 in.
4 3/4 x 6 3/4 in. silver print in album. View of fishing trawler FABIA, ca. 1923, in the Boston, Massachusetts harbor, starboard bow view. FABIA was a 142' oil engine otter trawler built in 1920 at East Boothbay, Maine. She was commissioned in May of 1920. Her shipmaster was Caption Robert Wharton and she was out of Boston,Massachusetts. Her owner was the John Chisholm Vessels Co. of Gloucester, Massachusetts. Rubber stamped on back, "ELECTRIC BOAT CO. / Neg. No. (1399)". CREDIT LINE: Mystic Seaport, General Collection.
1988.20.2.17
Mystic Seaport, General Collection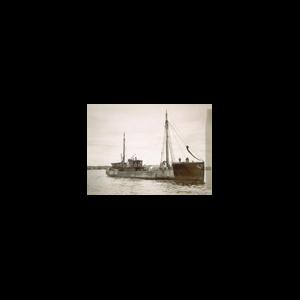 Related Subjects