"Flying Flukes"
oil painting
PAINTINGS - OIL
marad; paintings
Hoyne, Thomas M. III
1986
frame 34 x 48 x 3 in.; stretcher 24 x 38 in.
Oil painting of whaling scene by Thomas Hoyne entitled "Flying Flukes"; two whaleboats in foreground with flukes of whale between them; boat at left backwatering away from whale, with harpooner preparing iron; boat at right rowing; two whaling barks in background; signed lower right "Tom Hoyne c 1986".
1991.152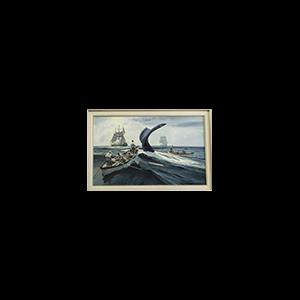 Related Subjects