"Main St. Drawbridge, Mystic, Conn, 1904"
photographic postcard
POSTCARDS
Kretzer, Conrad
USA, CT, Mystic
1904
paper
3-5/8 x 5-1/2 in.
Postcard, black and white photo of the drawbridge in Mystic CT. 1904 Four unidentified persons are standing on the bridge. Sign at apex of bridge reads "WALK YOUR HORSES" Printed in the lower left corner is "Published by Conrad Kretzer, Mystic, Conn." Printed at bottom center of card is "1866 MAIN ST. DRAWBRIDGE, MYSTIC, CONN, 1904".
1993.17.31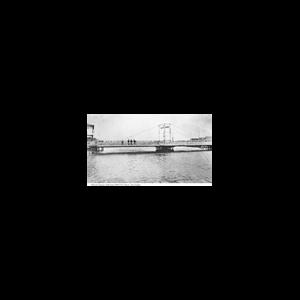 Related Subjects