"Nightwork"
watercolor
PAINTINGS - WATERCOLORS
marad; paintings
Mohr, Wendell
Circa 1997
paper
Overall: 22 1/2 x 30 in.
Watercolor by Wendell Mohr, "Nightwork"; port bow view of unladen freighter at dock in front of urban landscape and suspension bridge, [freighter is amalgamation of World War I and World War II vessels, Alcoa-style stack;] 3 tenders in front; painting based on artist's memories of being in the Merchant Marine during World War II. Mystic Seaport, Museum Purchase Award, 1997.
UNIDENTIFIED freighter; UNIDENTIFIED tender
1997.131.1
Mystic Seaport, Museum Purchase Award, 1997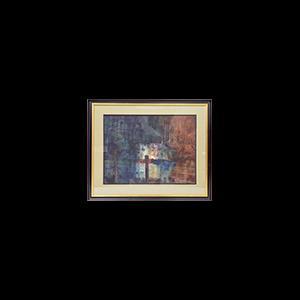 Related Events