Viewing Record 382 of 867
Previous Record
Next Record
Switch Views:
Lightbox
|
Image List
|
List
Composite picture commemorating bark CHARLES W. MORGAN
composite picture
PAINTINGS - MISCELLANEOUS
marad; paintings
Littlefield
35.50 x 21.75 x 0
Composite framed picture commemorating CHARLES W. MORGAN, probably drawn & assembled by Littlefield; consists of pen & ink & wash vignettes and memorabilia; top-whaling scene; 2nd register-2 pictures of CWM cut from magazine, "In Service" and "Enshrined" & magazine clipping of vessel history; 3rd register-mermaid drawing frames envelope addressed to Miss Jane M. Gould, New Bedford Mass, from CHARLES W. MORGAN, "MORGAN COVER-JAN. 23, 1848 from LAT. 20 6' SOUTH-LONG. 20 5' WEST"; 4th register-drawing of underwater scene of Neptune, sailor, fish and vessel remains, w/facsimile of letter to "Dear Cousin" from Gideon Hoxsey, 1/23/1849. Length of rope attached to top of frame spells "Chas. W. Morgan"; miniature harpoon attached to bottom of frame; bronze clips on sides of frame. (Remaining info on card).
NORTH AMERICA ship
1987.97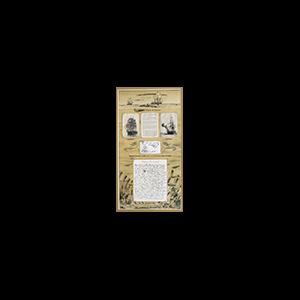 Related Subjects