Viewing Record 435 of 867
Previous Record
Next Record
Switch Views:
Lightbox
|
Image List
|
List
Dredging for CHARLES W. MORGAN berth at Mystic Seaport, 1941
photographic postcard
POSTCARDS
web coll CWM01
USA, CT, Mystic
1941
3.38 x 5.50 x 0
Postcard; black and white; view of dredging operations for berth of CHARLES W. MORGAN; Mystic River, Mystic, CT. 1941. Two guns (1940.437-438) from wreck of British ship WINCHESTER in foreground. Postcard made in U.S.A. Handwritten in pencil on back of postcard: "Dredging berth for/ the "Morgan"/ 1941".
1950.1215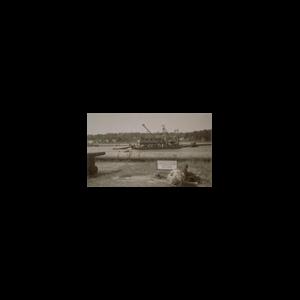 Related Objects