Viewing Record 512 of 867
Previous Record
Next Record
Switch Views:
Lightbox
|
Image List
|
List
Medal commemorating visit to the CHARLES W. MORGAN
commemorative medal
MEDALS, BADGES & COMMEMORATIVE ITEMS
web coll CWM01
Robbins Co.
USA, MA, Attleboro; USA, MA, South Dartmouth
before 1941
metal
Diam. 1-9/16 in.
Commemorative medal; circular, brass; on one side port view of whaling ship CHARLES W. MORGAN, rope design around edge; on other side cast "IN/ COMMEMORATION/ OF YOUR/ VISIT TO THE/ CHARLES W. MORGAN/ AT ROUND HILLS [sic]/ MASS." and "ROBBINS CO ATTLEBORO MASS".
2003.94.1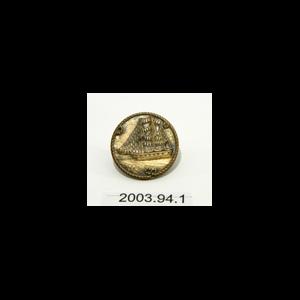 Related Objects