Viewing Record 347 of 849
Previous Record
Next Record
Switch Views:
Lightbox
|
Image List
|
List
Polymer tusk, scrimshaw of CHARLES W. MORGAN
fakeshaw; tusk
SCRIMSHAW & ALLIED ARTS - TUSKS
marad; scrimshaw
Juratone, Ltd.
synthetic
0 x 22.25 x 0
Molded polymer plastic walrus tusk manufactured by Juratone Limited, London, England. Obverse has engravings of sperm and right whales and American flags. Marked: "D.M.S./ The Ship/ CHARLES W. MORGAN/ New Bedford". Reverse hs whaling scene with ship, whaleboats and whales with gulls overhead. Marked at tip: "1842". This scene taken from tooth illustrated in Flayderman, "Scrimshaw & Scrimshanders", p. 107. Unfinished geometric pattern border around base end of tusk.
1980.30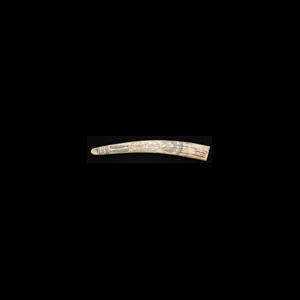 Related Subjects