Viewing Record 541 of 849
Previous Record
Next Record
Switch Views:
Lightbox
|
Image List
|
List
Whaling bark CHARLES W. MORGAN
whaling bark
WATERCRAFT
web coll CWM01
Hillman, Jethro & Zachariah
USA, MA, New Bedford
1841
LOA 113 ft. 11 in.; beam 27 ft. 7 in.
In 80 years, from her launching in 1841 until the end of her last voyage in 1921, the Morgan made a record 37 voyages which earned a total of $1,400,000. Outlasting all others of her type, she is now the treasured symbol of Mystic Seaport.

The events of her long life have been well-recorded, and the more significant of these are listed here:


1841 (July)—Launched from the New Bedford shipyard owned by Jethro and Zachariah Ilillrnan and named for her principal owner, Charles Wain Morgan. She was ship-rigged when new.
1841 (September)—Sailed on first voyage under the command of Captain Thomas A. Norton.
1849 (March)—Sold by Charles W. Morgan to Edward Robinson. Morgan regretted the sale but could not buy her back.
1859 (October)—Sailed on her 6th and most profitable voyage, from which she returned three and a half years later with a cargo worth more than $165,000.
1863—Sold to J. & W.R. Wing who were to be her principal owners for the next 53 years.
1864—A gimballed bed was built for Captain Landers's wife who was aboard for the seventh voyage. A "gamming chair" was also fitted on the vessel for her.
1867—Vessel remeasured under the new tonnage rule; registered tonnage was changed from 351 to 313.75. Her rig was altered to that of a bark with removal of yards from the mizzenmast.
1874-75—The Morgan was extensively refitted and repaired,
1881—She underwent more refitting, which included moving the anchor windlass forward, some new spars and rigging, and the fitting of double topsails on the mainmast.
1883—Double topsails were fitted on the foremast during the 12th voyage.
1886 (June)—Returned from her longest voyage of nearly five years.
1886 (October)—Left New Bedford for her new home port of San Francisco Before leaving she was refitted, repaired, and altered somewhat for Arctic whaling with reinforcement of her bow and the addition of a steam-powered hoisting engine. 1906 (June)—The Morgan returned to New Bedford after an absence of nearly 20 years.
1913—Back from her 33rd voyage, she was stripped and laid up at Union Wharf in Fairhaven.
1916—She was purchased by Captain Benjamin Cleveland who outfitted her to hunt sea elephants at Desolation Island. Before leaving, the Morgan took part in a movie titled Miss Petticoats.
1918—The vessel was sold to Captain John A. Cook who changed her port of hail to Provincetown. She left New Bedford in July on her 35th voyage.
1920--(September)—Set out on her 37th and last voyage.
1921--(May)—Returned, ending an active whaling career of 80 years.
1922—Took part in the Elmer Clifton movie Down to the Sea in Ships, for which the vessel's rig was changed to that of a ship. Afterwards she sailed to Salem to take part in another movie, Java Head, in which she was thinly disguised as a merchant ship.
1924-25—Purchased by artist Harry Neyland and others of a group called Whaling Enshrined. With money given by Colonel E.H.R. Green, she was repaired, repainted, outfitted and ultimately moved to Green's estate at South Dartmouth, Massachusetts, where she was placed in a bed of sand and opened to the public.
1935—Colonel Green died, leaving no provision for her future.
1938—Already falling into disrepair, the Morgan was jostled and damaged further by the great hurricane.
1941—At the age of 100, she was acquired by Mystic Seaport, removed from the sand at South Dartmouth to be placed in a similar berth at Mystic after being towed there less than a month before World War II was declared.
1942—She was opened as an exhibit after being rigged and painted.

CREDIT LINE: Mystic Seaport Watercraft, Maynard Bray, Benjamine A. G. Fuller and Peter Vermilya. Mystic Seaport. 2001.
watercraft
1941.761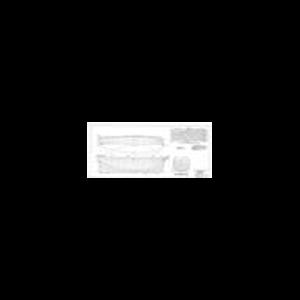 Related Media
Related Subjects